Know About Us
Current News
Events
You are at : Chairman's Desk
Chairman's Desk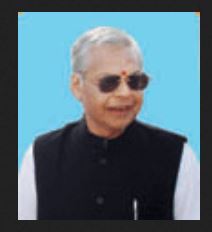 Hindi Vidyapith Deoghar was established in the Pre-Independence period by our great freedom fighters to propagate meaningful education with Indian Culture and Ethos. The tradition is being carried forward even today by the institution.
As we are aware that the teacher is the backbone of the society who can mould people either as good engineer, pilot, doctor, professor, teacher, administrator, soldier, entrepreneur, good citizens etc. embedded with ethical values.
The need of the hour is to build honest and efficient Hi-tech teachers, intertwined with Indian virtues & cultural traditions. As per our ancient Vedic Cult it maintains "Vidya Dadati Vinayam" i.e. "Modesty is the product of true enlightment". Thus, our endeavor remain always is to help the students to develop an understanding of the process of change and development both in terms of time and space but not at the cost of moral and metaphysical values of our ancestral tradition and ethics.
To propagate it further, Hindi Vidyapith has established an ultra-modern value based College of Education to make efficient teachers with intellectual development with the help of dedication, commitment and punctuality.
Knowledge emanates from divinity and the task which our society has been bestowed is to carry forward the tradition of learning par excellence for future.
Wishing success in their life.
Krishnanand Jha